How to use chalk paint without falling into a trap of Shabby Chic + a little giveaway to get you started!
Let me start by saying – I have nothing against Shabby Chic! In fact I love Shabby Chic! So much so that until very recently I've been slowly shabby Chic-ing our entire house! And if you're new to my blog, let me tell you, I'm using chalk paint a lot! So that's a lot of shabby chic! To say that I was a little bit bored with the technique, is a bit of an understatement. It's a bit like with sweets. If you eat to much sweets it makes you feel sick. You have to stop eating them, but it doesn't mean you will never have sweets again… But at this point your gut is telling you that you need a break.
And my gut was telling me it is time to stop shabby chic-ing everything and be a little bit more creative with the chalk paint! As it turned out I was exactly "a little bit more creative", kind of like that piggy in the middle, nothing mind blowingly new… So I guess that would be a great introduction if you have fallen into the same trap as me using chalk paint to create a Shabby Chic look. (In case you're not at the same point in your life as I am and you're still a huge fan of distressed look check out my post here.)
Using chalk paint
So my latest project was this lovely old cabinet.
First I painted it using chalk paint in Graphite by Annie Sloan. And I have to say, it looked so much better already. Not that I can't appreciate old furniture for what they are. I have few old pieces that I've left untouched, simply because they are stunning in their original form! But this cabinet was in a desperate need of TLC.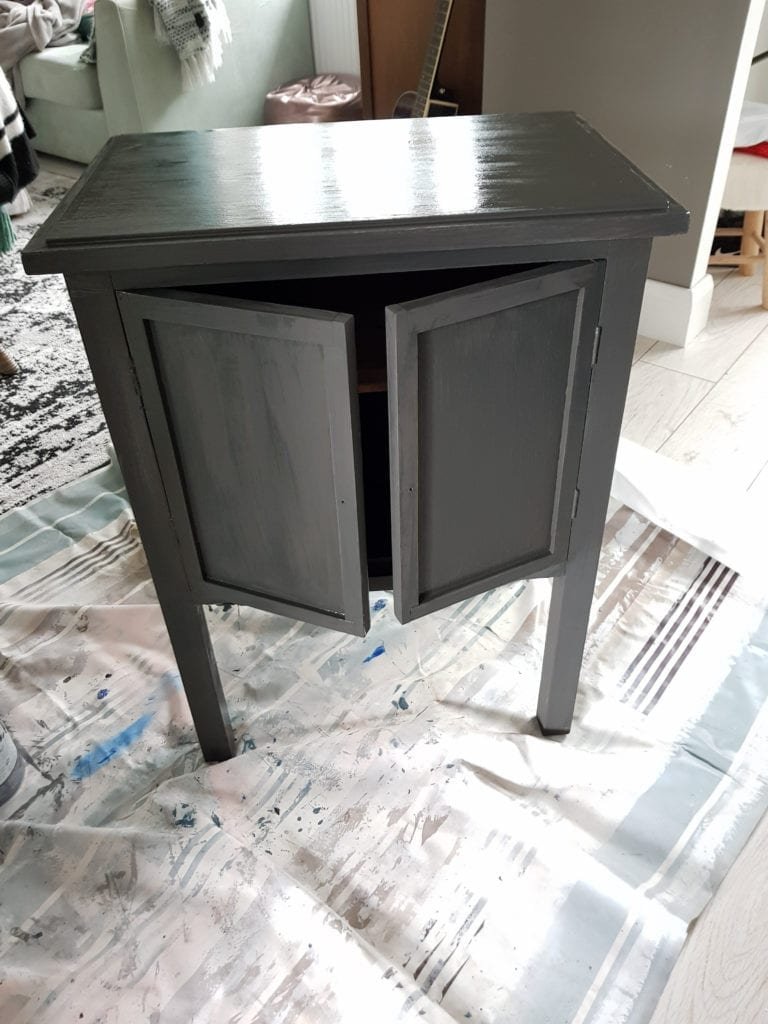 So this is how it looked after I applied two coats of chalk paint in Graphite. First coat always go smoothly, even if the furniture has varnish on it. That's the beauty of chalk paints. No preparation is needed! I like to call it a PAINT FOR IDIOTS. Literally anyone can do it! (And by idiots I refer to no one in particular, rather than myself. Because as confident as I may sound, I haven't got a clue what I'm doing for most of the time.)
Tip
When applying a second coat of chalk paint I like to add a little bit of water to it. I wouldn't call it "diluting it" as it is literally just a drip of water. As all chalk paints are quite thick, this is simply done to stop the paint from becoming tacky and to make that second coat go as smoothly as the first one. What also may help is to leave it to dry overnight (but I'm too inpatient for that).
At that point I was still going the "well known and familiar Shabby Chic route". The plan was to paint the whole thing in Graphite (tick) and then add yellow in places (added) and finish it by giving it a distressed look. Only then I realised: YES, I HAVE TRULY AND UTTERLY FALLEN INTO A SHABBY CHIC TRAP!!! I guess it comes natural because you will never get that modern, highly polished kind a look when using chalk paint. And that's one of the reasons Shabby Chic got itself so many fans. It is so much easier to achieve this look with chalk paint… after all, it suppose to be shabby.
Being creative with chalk paint
As I already added yellow in places I decided to repaint it with Graphite again (luckily I added that yellow only to the back of the cupboard). Then I grabbed a masking tape and stick it to my guinea pig (AKA cupboard), exactly in the middle, all the way across, creating two halfs. I then applied two coats of Annie Sloan English Yellow Chalk paint to the lower half along with cupboard's legs.
As always I finished with clear wax for protection. Normally I like to change any old door knobs but this cupboard had such tiny knobs and so close to each other, that it would have been a nightmare to find a match. So instead I decided to paint them in a contrasting colour – JUST FOR FUN!
And voila…
So if like me, you got stuck in a Shabby Chic-land try this simple way of using chalk paint. With a bit of a masking tape you can create something similar to my cupboard or you could create geometrical shapes or even stripes (check out this post for the easiest way of doing stripes on a cupboard).
And if you really want to dive in deep into all the painting techniques I've got a surprise for you. One lucky winner will get not 1, not 2 and not 3, but 4 BOOKS BY ANNIE SLOAN + ANNIE SLOAN CHALK PAINT WORKBOOK to keep you on track with all your inventions…
To be in chance of winning this great book set all you have to do is to subscribe to my mailing list – SIMPLE! (Please note – I will never send you any spam, just a gentle notification whenever there is a new post) You can also enter the giveaway on my Instagram, where you can find more details on how to enter there. Oh, and there's something else… subscribing to my blog gives you not 1, but 5 entries so 5 times more chances of winning! So what are you waiting for? 
Related