How to create the perfect blue room? Your ultimate guide to using blue colour in interiors!
Few days ago I read somewhere that if you grow your confidence using blue, then you'll have a colour scheme for every room! I looked around my blue room and realised that this couldn't be more true. I was never very confident with colours, but somehow blue was always featuring in our house. Blue colour kept appearing and I kept on adding it with no second thoughts.  And the house evolved around it somehow. And I guess, that's the power of blue. It somehow always works!
But apart from being my long time favourite blue colour is also the easiest to decorate with! So if you've been itching to add some colour to your home decor, but you're not quite sure where or how to start, then blue is your answer. Why?
Blue is the colour of the sky and the oceans. So whichever shade you'll go for, it will always bring happiness to your home. Because who doesn't like to look at the sky twinkling with the stars or go for a dip in a turquoise sea  water? Exactly! We all love it. And that's why blue colour is the nation's favourite. And if it's not your favourite, that's ok. You don't have to paint your entire house blue. Adding some blue accessories to your home can have the same impact. And that's as good starting point as any other to start using colour in your home.
So now let's go into more detail…
Blue is the warmest colour!
Ok, that may not be entirely true because actually blue colour lies on the cooler side of the colour wheel, but you can make it true. Confused? Well, me too, but here's a little explanation… Gone are the days when we had only few colours to choose from when shopping for a paint. Three primary, few secondary and maybe couple of tones and shades of each colour and that's it. (Don't know the difference between them all? Check out my blog post here)
These days there are not just fifty shades of grey! They are actually more than fifty shades of every colour! That's including blue! To make it even possible to have so many shades of one colour, they have to have different undertones. And if those undertones lean towards warmer colours, than the end result is that the colour is warm. Even the blue! Simple!
Blue room in every home, with every light!
Despite what I've just talked about, undeniably blue has a potential to create a sense of coldness in a space. And that's why it is so important to use the right blue, in accordance to your home's light.  To avoid giving a north-facing room even more chill, choose blues with warmer undertones, like purple or red. But if your room is filled with warm sunlight, you can balance it with colder shades of blue with green or grey undertones.
Blue adds the feeling of spaciousness!
As the colour of the sky, blue is an advancing colour that is perfect for rooms of any size. And you don't have to just trust me on this.  Here's what Marianne Shillingford, a creative director at Dulux, said about blue:
"When you paint blue in a room, it almost destroys the walls. It reminds us of the sky and really expands the space."
I heard that few years ago, but still, even now, I could not put that better myself (obviously). And the same goes for darker shades of blue. They still enhance the space, even the small ones. In fact dark blue is the only dark colour that won't make your room look smaller. So if you've been swooning over dark interiors on Pinterest or Instagram, but you're too afraid to go dark in your own home, blue is in fact your safest option.
How to use blue in your home?
As I'm a little bit more confident with blue now, I use it as my neutral colour. That means if I buy anything blue for the house, I can literally use it in any room. That gives me the freedom to move things around if I fancy a change (which is pretty much every day) But if you're new to colours and you want to create yourself the perfect blue room,  just remember this:
use blue at its lightest as a neutral for the room
at its darkest use blue for feature walls (safe option)
or paint the whole room for a dramatic effect
use blue in accessories and mix it with other colours
or use blue as one stand out colour on all white background
Colours that go with blue
There's actually not that many colours that don't go with blue. In fact, I can't even think of any right now. But because I'm a little bit colour crazy, I'll concentrate on those few that, in my opinion, are the perfect company for blue. Starting with the match made in heaven. Literally!
The sky on a sunny day. Also known as blue and yellow. You can't go wrong with this colour combination and it's definitely one of my favourites.  Although it is regarded as a safe option, you can add some punch to it when both colours are in their strong primary hues.
Or create your perfect blue room and add some pink to it. Chose as the Pantone's colours of the year 2016. The only year when they chose two colours together. And for a good reason as they complement each other perfectly! Ideally they should both have the same intensity otherwise one will overshadow the other. It's like with humans, right? This relationship can only survive when the two are equal. Blue and pink – I mean…
Blue and green combination is another great example of mother nature's colour work. And if there are colours that work together out there, than they're gonna work as good in our homes too. Besides blue and green are next to each other on the colour wheel, so they create the perfect harmonious colour scheme.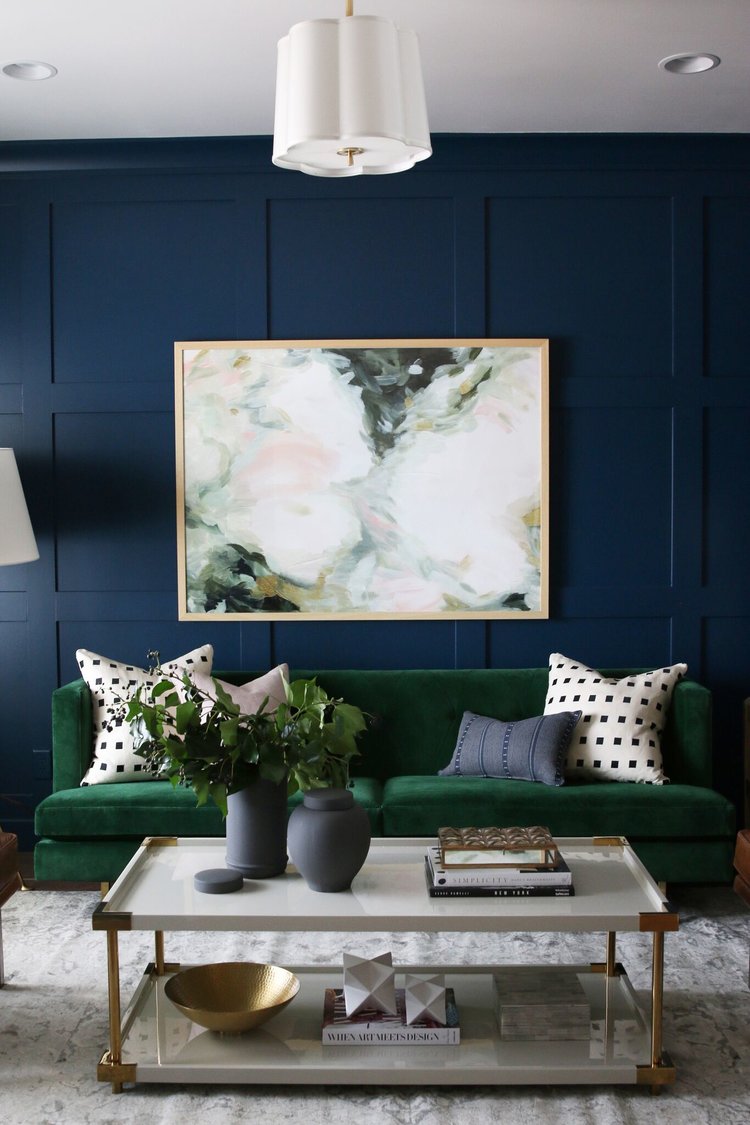 Say it with furniture
Not brave enough to take the leap and start painting your house blue? How about painting some of your furniture then? You can start with a small piece like a coffee table or a bedside cabinet! It won't take much time and it's easy to fix it in case you decide that blue is not for you (I doubt that). It will work especially well if your walls are neutral, ideally white, as they will let your blue piece really stand out!
So, now you see, creating the perfect blue room does not necessarily mean painting every wall in your house blue!
Will my blue room make me feel blue?
Like any other colour, blue can evoke different moods and feelings. And feeling blue is not one of them! In fact  colour blue is often described as peaceful, tranquil, secure, and that it brings the feeling of calmness and serenity. But be careful not to get carried away, as too much blue (in its cooler shades) can, in fact, create a feeling of sadness. But that can be said about any other colour too.
So unless you're planning to paint the entire house blue, along with the furniture and the kids, then you have absolutely nothing to worry about! And apparently research has shown that people are more productive in blue rooms so study is where you should start your new blue room obsession. Or in a dining room if you're trying to loose weight. I even eat from blue plates. The weight hasn't shifted but I'm convinced that cakes taste much better of my blue plates…
So, how do you feel about blue now? Have you always been a blue lover? Have I made you change the way you feel about this colour? Or maybe you will just never like it, no matter what?
In case you need more convincing about the idea of a blue room in your own house, here's some more photos for you…
Some other blue room ideas

Pin me for later!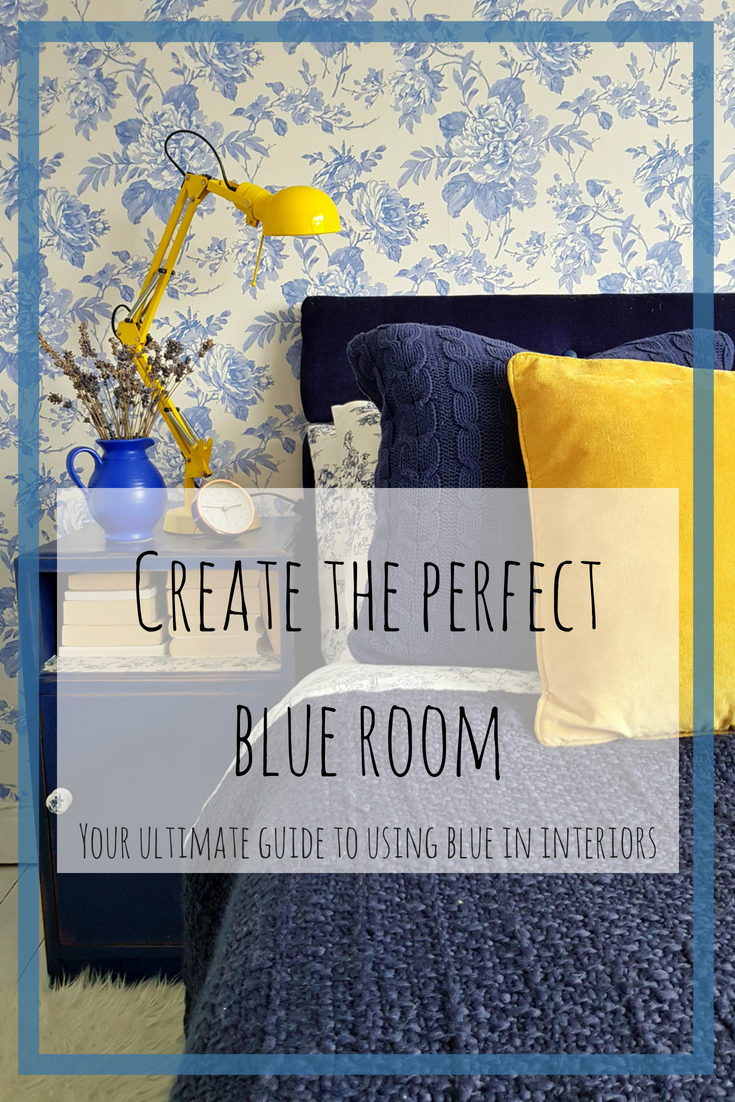 Related