Looking for new outdoor furniture? There are few sales you need to know about now!
This post should have been written at least a month ago. But who thinks about buying outdoor furniture in the middle of the winter? In the first week of March we saw the biggest snowfall in years. So instead of looking at some new outdoor collections we actually went and bought a pair of plastic sledges for the kids. And although the snow was gone within few days, it seemed that the cold weather was a little bit more reluctant to leave.
So here we are, mid April, still waiting for that heat wave they've promised (no signs yet!) But apparently the spring is on its way and we will be able to actually seat in the back garden in the next few days. And in case you were wondering, my little round-up of the best outdoor furniture, may actually be helpful… Or even very helpful, as some of the deals are as hot as a summer… somewhere else obviously! (Sorry, couldn't resist, my brain has been frozen for too long). Anyway, let's cut this crap talk and get to the point…
The best hot deals for outdoor furniture
Let's start with the place, we all head to for some screws and paint and come back loaded with cushions and candles… Yes, we're all guilty of doing that and there ain't no shame in that game! Especially now, with their gorgeous outdoor furniture collection.
B&Q Outdoor Furniture
Those beautiful Cuba rattan rocking chairs are £50 each or £43 for the standard chairs. If your budget's tight, just get one and pair it with a low table and a throw for a perfect outdoor reading spot!
Or for a little more cash you can get this beauty…
This Loa rattan armchair is currently on sale and it costs £125 (reduced  from £215). With birds singing in the background, a good house magazine and a cocktail, this will be your favourite place in the garden.
Or if you prefer relaxing in a more horizontal position, than how about getting yourself this Blooma Rural Fringed Hammock. For £39 you can relax in style (but you might need a blanket or two if the weather doesn't improve).
Now, let's hop to a different store, that you have probably heard of but maybe you've never shopped there before.
Jysk Outdoor Furniture
They have few stores around the UK but if there isn't one near you, you can always shop online. Although if you don't spend much, the delivery cost may not be the cheapest so it's always worth locating your nearest store for a pick up option. And you might want to do that because for £30 (reduced from £34.99) you can get this lovely hanging chair. An absolute must for any cool outdoor space this summer! And if you don't have anywhere to hang it on, then head to Ebay from my sidebar widget, where you can get a special metal stand to create your perfect garden hideaway. I have to worn you though… it is so cool, it might be taken over by your kids. Unless you don't have kids, then it's all yours my darling!
But what if you need a little bit more than just a hanging chair for your outdoor space? Than how about this Molde 120 table and four chairs set?
It's the most expensive thing in my round up, but practically it's five things, so not too bad. I love that the chairs don't match the table. But if you look at the legs, although they are different, they actually have almost the same shape. And little things like that make a big difference. All this gorgeousness is also on sale at the moment,reduced from £399.99 to £274.
And while you're there don't forget to pick up a garden parasol, because you won't get it cheaper anywhere else! Currently reduced from £14.99 to £7.50! And you can even choose your colour so hurry op before they're sold out.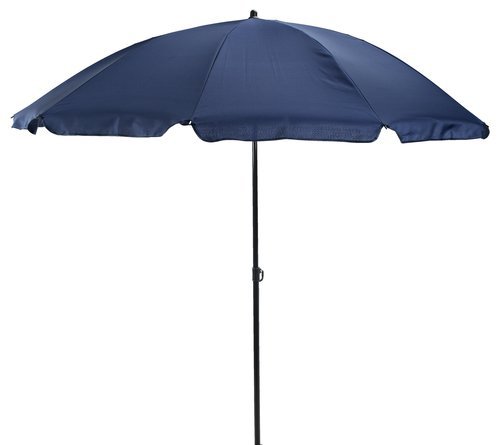 And because the parasol is cheap as chips, maybe you can treat yourself (or your garden I should say) to this gorgeous planter…
It is also on sale at the moment for £37.50. And although it is still not as cheap as the parasol, it is definitely worth the money. I think I know where I'm spending this weekend… (and my money)!
The Range Outdoor Furniture
Only one chair from The Range made it to my list, but, oh boy, what a chair it is!
I can imagine myself on that chair with a glass of rose in one hand and a good magazine in the other on a warm summery evening.  This Helicopter Chair has built in bluetooth speaker and a LED light. What else would you need? Oh, yes… a chilminder! But sadly, the service isn't included in the price. But for £149.99 (reduced from 199.99) they've thrown in quite a lot.
Homebase Outdoor Furniture
Side tables are probably not high on a priority list when you're buying furniture for your outdoor space. But you should make them high on the list. And you're gonna thank me for that. Especially that they're not expensive things. And these little stacking side tables form Homebase will bring some colours to your garden before the flowers decide to bloom. So that's a dual purpose I'd say. Price is good too – £13!
And if there's still not enough colour in your garden, you can add more with these pretty Acapulco Wicker Garden Chairs in five colours. Choose one or go for all colours for even more impact! They cost £38 each and even if you buy just one it will make you smile each time you step out to your garden.
Something pretty for the end…
Well, I could just go on and on with this list but I need to stop somewhere.  And so, I'm ending this outdoor furniture round-up with my favourite item…
This Siena Hanging Egg Chair from B&M is priced at just £150! And I know, it is still quite a lot of money, but exactly the same chair somewhere else costs £350! It is pretty, extremely good quality for the price and it's big! And here's a little problem that comes with it… They don't do deliveries and if you think you can get the chair at the back of you car… well… you can't! Trust me! We went to buy the chair but then with the biggest regrets we had to return it to the shop only 10 minutes later! It doesn't look that big in the shop, but it is massive!
But because it is so perfect, I'm still thinking how I can get it back from the shop. The only idea at the moment would be to throw the basket on my back and pretend I'm a snail… Those couple of miles I would most definitely walk at a snail pace…
So, are you ready for the heatwave? Is your garden ready? What's your favourite outdoor furniture from the list?
Related