My small garden makeover and how to create a relaxing outside space
The summer is here! Yippee! And what a start of the summer it is! But I'll stop my excitement here as I don't want to jinx it. I want the summer to last the whole summer! So I'll move on to the subject that is inevitably linked to the summer – SMALL GARDENS!
If you don't live in a huge mansion, there is a good chance that you have to face an issue that most of us have. How to make the most of a small garden? There might be lucky few who would call it a joke, but it's not. The reality is that an average UK garden size is just 14m². That's a size of an ordinary bedroom. But outside speaking that's a very small garden!
My garden might be slightly bigger than that but it's still on a teeny tiny side to be honest. But by carefully designing and zoning out the space, we created a relaxed and welcoming garden that seems much bigger than it really is. And if your budget is equally small then you'll be pleased to know that everything you see here is very budget friendly too.
So here's our small garden makeover
As this was a second time we decided to tackle the small garden issue, let's have a look at how it looked five years ago when we first moved in.
And then three years later…
And this is how our garden looks like today…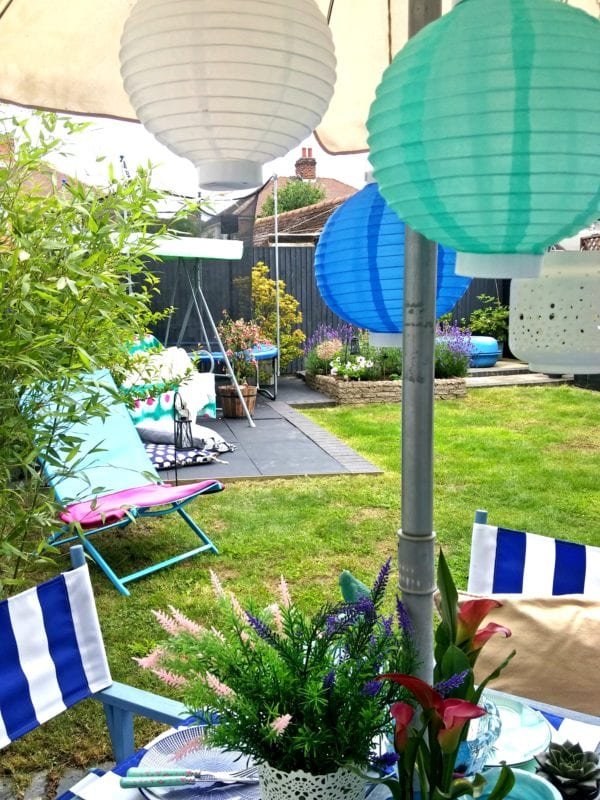 OK, so maybe the grass isn't in the best shape any more and there is a corner of the garden that is still not finished but if I was waiting for everything to be 100% finished, the summer would be over. So here's what we managed to do ready for this year's summer.
Al fresco dining
Small table and chairs can be easily incorporated even in the smallest of gardens. Try to place them the close to the house as possible for easy access while dining outside. We used to have a table in the back corner of the garden and never really used it. By simply moving the table and the chairs we've created an outside dining area that we can use every day (when the weather permits that is). Also by adding special rugs for outside use you can zone out the area from the rest of the garden and make it look like an extension of the house.
These rugs are from Ikea, brought home from the last Ikea trip. They were on sale and I paid £9 for two so I don't think you can beat that price. Although if your budget is more generous you should definitely check out Wayfair's outdoor rugs selection, some real stunners there!
Table and chairs were bought on Ebay a few years ago. My cousin made these lovely fabric seats for us this year so the chairs are not just comfy but pretty too! And by adding bright colours to the garden you can be sure that it looks great even on the gloomiest of days. The wall behind the table needs repainting and I'm just considering the colour options as outside walls don't always have to be white!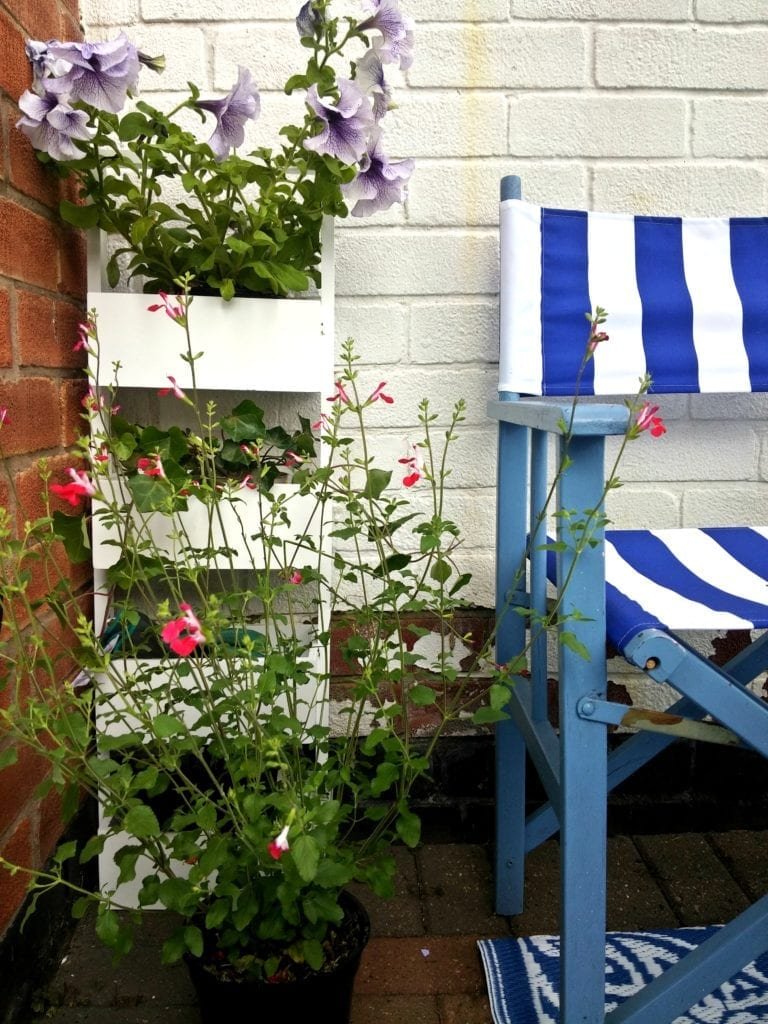 Add some dark colours!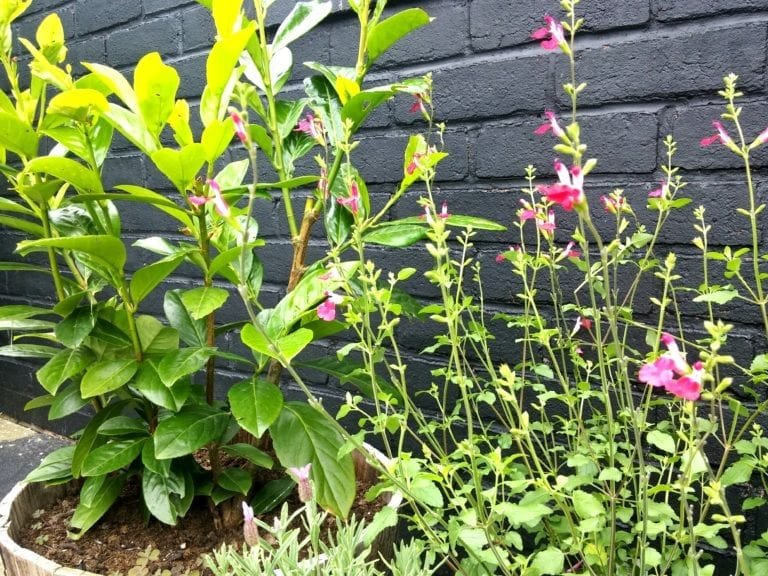 That's the other side of the garden where I painted the wall black. By doing this you make the greens in your garden really pop out. Don't be afraid of making your garden looking smaller. And if you are, then stick to using dark colours up to the level of your eyes and light colours for anything above. But the truth is that dark colours are the best for creating a welcoming and relaxed outdoor space.
If you have old concrete slabs in your garden you can even go as far as painting them black like I did (which you can read about in this post). By mixing in some glitter you can create a beautiful clean look for under £20!
Also by painting the wall behind the bins black you can make them less visible. And let's be honest, no one really likes this part of the garden. So the less visible the better!
Add a bamboo tree
Bamboo trees are one of the fastest growing trees and they are great for screening. So if your garden is overlooked and lacking privacy bamboo trees can solve the problem rather quickly. This bamboo tree is meant for the corner of our garden, but we need to lift few slabs to plant it in. Unfortunately that's not a job for a small person like me. So I have to wait for Rob to come back from wherever he's in the world right now (working, not holidaying) to do his bit. But how on earth me and the kids managed to bring that monstrous thing from Homebase last weekend I still can't really comprehend.
Add kids corner
That is if you have kids obviously! There is no point in denying their existence in  order to have a beautiful garden. If there is nothing for them to do in the garden, they are gonna be bored and more likely to turn to their Ipads or tablets for some entertainment. And that's not what summer is about. So encourage your kids to spending time outside. Even if that means slightly less glamorous looking garden.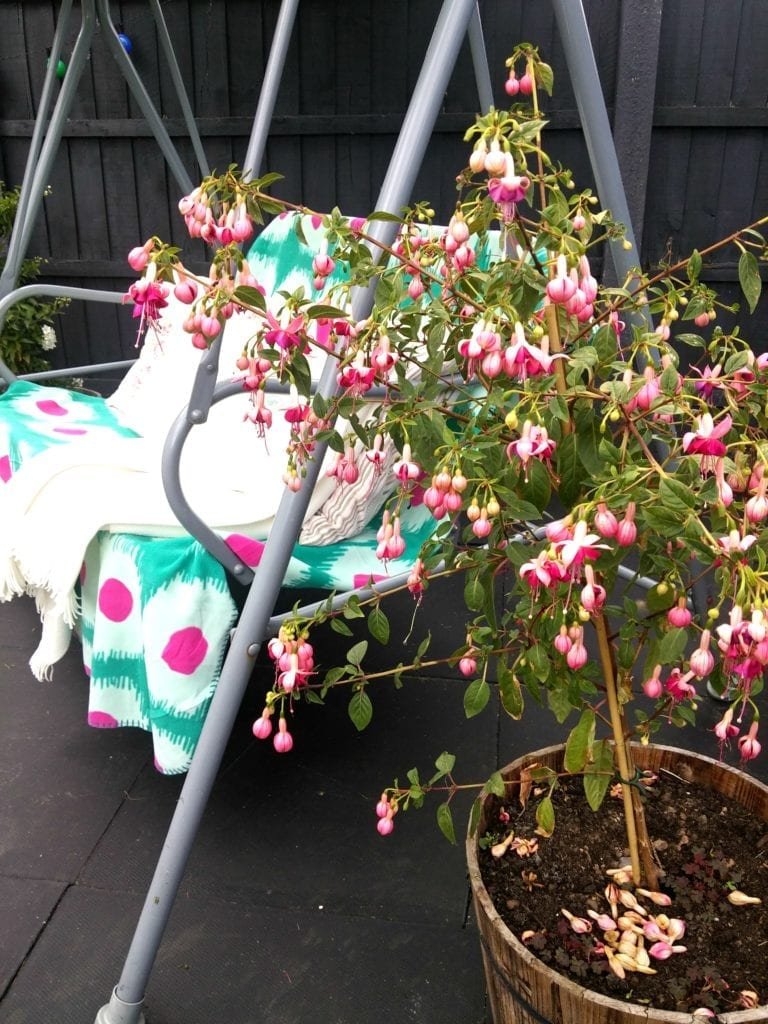 I'm not particularly crazy about the swing, neither the trampoline. I'm actually already making plans in my head for a nice big pergola that will give us much-needed privacy from that side of the garden. But having a trampoline means that kids can bounce off all the sugar rush after eating too many cereals for breakfast. And painting the fence dark made the trampoline less visible, which means I can live with that big eyesore (at least for now I can).
Lights, lanterns and candles
It doesn't matter what size is your garden. Lights, lanterns and candles are a must for creating a relaxed atmosphere. You can buy them fairly cheaply in shops like Home Bargain or even Poundland (these round lanterns are from Poundland and I dare to say they are one of the best buys ever!)
Spend time in your small garden
That's the most important part. It doesn't matter how beautiful your garden is if you don't spend some time out there. But by treating your small garden with some new plants now and then, and some old TLC, you're more likely to love your garden, even if it's the tiniest place on earth.
And that's it. My garden makeover. Although not completely finished the immediate effect is that we can all enjoy some time in here whenever the sun decides to come out.
Oh, and here's that bamboo tree in transport… Can you spot the kiddo? Poor Kasper… the tree was tickling him all the way home.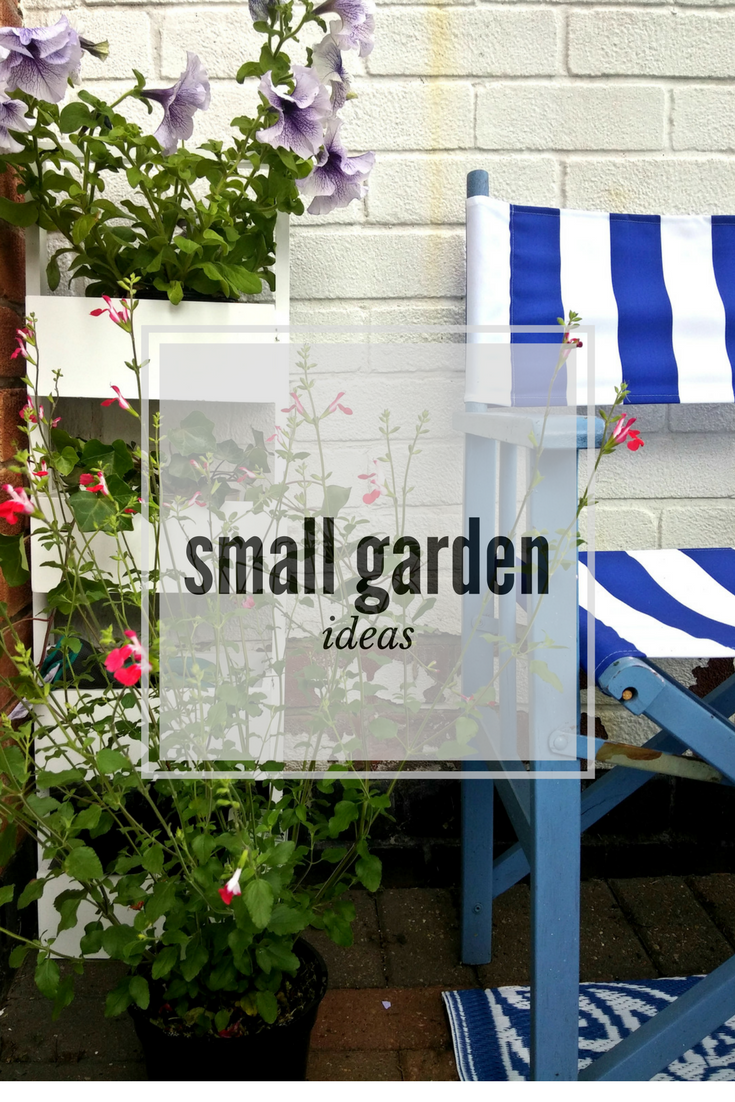 Zapisz
Zapisz
Zapisz
Zapisz
Zapisz
Zapisz
Zapisz
Zapisz
Related