Very cultural post – about Charles and Ray Eames
We all have seen them, heard about them and some of us are even the lucky owners of these very chairs. But who's behind this beautiful design that has been replicated for so many years? Do we really need that many Eames chairs? And how to tell the difference between the replica and the real thing?
If you've been living under the rocks or just simply you were not that interested until now (but you are now, because you landed on that page), here's just few facts about Charles and Ray Eames.
Charles and Ray Eames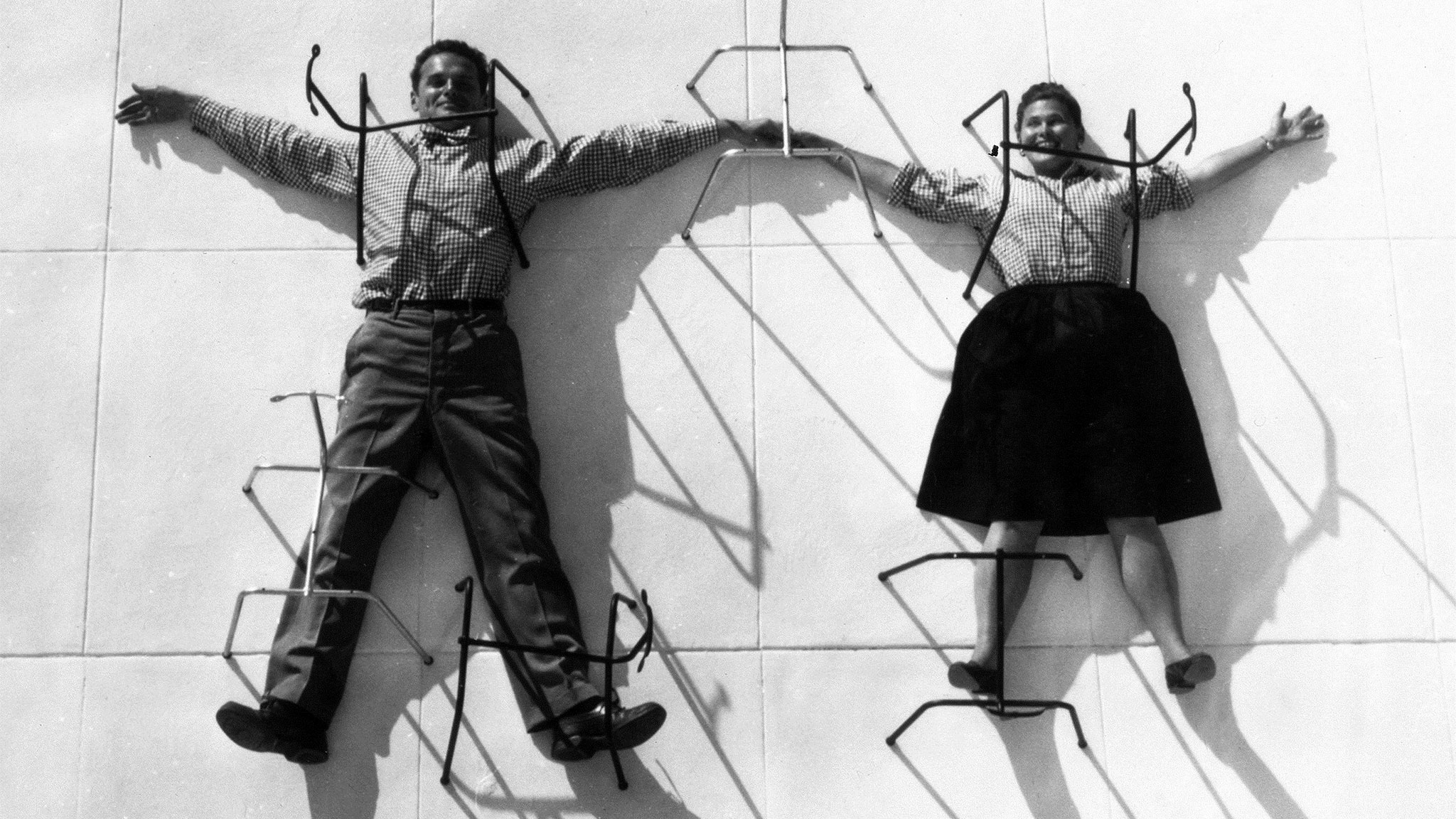 First of all we're talking about two people, not one (just in case you missed the "and"). The couple was working together for over forty years. They were sharing the same passions and believes. Although their relationship had a rocky start they triumphed and became the perfect duet. They created together the most famous designs that stood the test of time and became the most influential designs of the 20th century. Their aspiration was to design for the masses. 'Getting the most of the best to the greatest number of people for the least' – that's how they described their goal in furniture design. In 1949 as part of the "Case Study" program for Arts & Architecture Magazine they designed and built their home in California. The innovative use of materials made the house one of the most important residential buildings in the world.
If you're planning a visit click here for more info.
Photo source here
Photo source here
Does this space look like it's been designed over sixty years ago? If they need someone to live in this house to look after it they can definitely count me in. I wouldn't even change a thing!
The chairs
Chairs designed by Charles and Ray Eames are such icons you would recognise them even in your sleep! They were all designed between 1948 and 1956 and are still in production today. Herman Miller is behind the production in America and Vitra manufactures for Europe' market.
Eames Plastic Chair
Photo source here
Eames plastic chairs are definitely one of the most (if not the most) famous chairs in the world. They started life as fibre-glass chairs  designed in 1948 for a "Low-cost furniture design" competition organised by Museum of Modern Art. Two years later they were the very first mass-produced plastic chairs in the history of furniture. (If you want to read more click here).
Eames Lounge Chair and Ottoman
Photo source here
This chair was designed in 1956. The inspiration was a nineteenth century English club chair. The main objective for Charles and Ray was comfort and, boy, they delivered. Not to mention that the chair was (and still is) absolutely stunning! You may need to save quite a bit for it, as it is not the cheapest one (read: ridiculously  expensive).
Fake or no fake?
As an interior designer I should always recommend buying original pieces. But if the real thing comes with a very hefty price tag then, what the heck, I say buy fake! This is actually quite ironic that designers whose goal was to make furniture affordable, are now one of the most expensive ones. It's like they chairs have almost lost their purpose. But I guess that's what you get if your designs become the icons in furniture industry. And chairs by Charles and Ray Eames definitely deserve to be the icons!
Where to buy
So if you've been dreaming of owning one (without having to sell your kidney) here are few examples and where you can find them. Just remember to call them Eames Style, not Eames chairs, because that's what they never will be! Don't try to buy replicas that are as close to the originals as you can get. And never buy furniture with original brand or name on them  if you know they're not original pieces. You can be proud of your furniture that's been inspired by the icon, even if it's not the icon! Maybe consider buying in different colour, different shape or material?
This one is from CultFurniture. They come in different colours but this blush pink is just bang on trend and it is reduced from £59 to £39 at the moment.
Or how about the armchair from Swivel UK in the colour of this year. This green Eames style chair is reduced to £70!
Swivel UK
Ever dreaming of a rocking chair? This classic white Eames style rocking chair is an Ebay find and it costs £46.99
Ebay
And finally the lounge chair! This one is from Only Home and the price is reduced at the moment to £684 (which is still just a fraction of the original one).
Only Home
But if you fancy buying original Eames Chairs, because you can simply afford it (or because you robbed the bank) you can order them directly from manufactures: Vitra (Europe) or Herman Miller (USA)
Photo source here
Or maybe you already have an Eames style chair in your house? Let me know…
Zapisz
Zapisz
Zapisz
Zapisz
Zapisz
Related