Bottom up blinds – the best solution for keeping privacy while letting the sun in
Are you fed up with passers by "accidentally" peeping through your window while you're trying to relax on the sofa with your feet up? Not so relaxing, is it? Or when you're dancing spontaneously in the kitchen while making a dinner? (that's totally me!) Well, if you've been struggling to find the best solution to keep those "nosy peepers" away from your windows but you don't want to sit with your blinds pulled down all the time, then BOTTOM UP BLINDS are what you're looking for! And did I mention that they do all that while letting the sun into your house too? Sounds like the perfect solution to your problem? Then read on…
Bottom up blinds are not the latest discovery, but they are new to me. We've decided to invest in one for our living room. And we couldn't be happier! (BTW, this is not a sponsored post, I just like to share with you guys my latest discoveries, especially if they can make our life so much easier)
So what exactly are bottom up blinds?
Choosing the perfect blinds for the house (especially for the front of the house) can sometimes prove very difficult.  We all want to retain the privacy and let the natural light pour in at the same time. Bottom up blinds, as the name suggest,  are designed so that they can be pulled up from the bottom of the window.
They can also be pulled down, just like any other blinds. This clever design also allows the blind to be positioned at any point on the window, controlling the amount of light and privacy you want at any time of the day (this is my favourite option). The blinds can be easily adjusted with a cord and a pulley system. They offer a great solution for rooms which are overlooked allowing you privacy whilst letting the daylight in through the top of the window. They can also be pulled all the way down for the night, obscuring the view completely.
Bottom up blinds can be fitted like any other blinds at the top of the window with cord and pulley system or they can be fitted onto each panel of the window separately. Whichever type you choose, you can be sure they are gonna be as stylish as practical.
What's more…
And if that's not enough, bottom up blinds can also reduce the heat loss thanks to their unique honeycomb technology. They can save you as much as 25% on your energy bills! (and that's a new cushion or two)
Obviously there are other solutions to this common problem, like window film or sheer blinds. But unlike bottom up blinds they can't be pulled down at night time. That means they need to be paired with curtains or another blinds for a complete privacy when it's dark outside. With bottom up blinds it is like having all this in one! So if you're not a big fan of curtains or you just want the simple look of the blinds that actually work at the same time, bottom up blinds are your new best friend!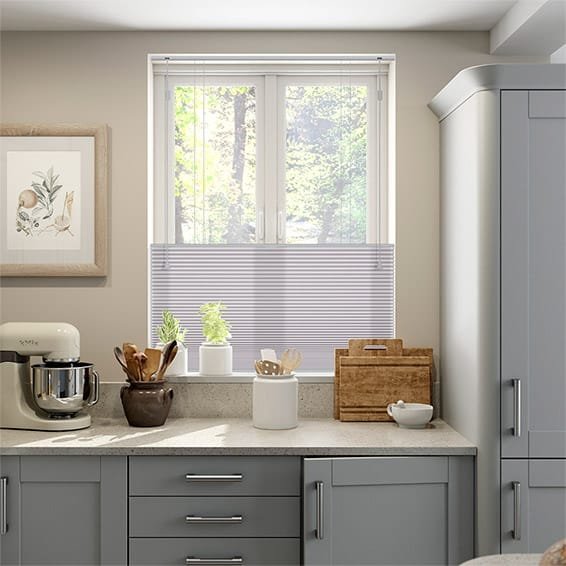 And here are the blinds in my living room. Excuse the photo quality but it wasn't easy to take a good photo with all this sun pouring in (wink, wink!)
Related