How to choose the best laminate flooring for your home?
If you've renovated your home before, then you probably know that flooring can make or break the property. But that does not necessarily mean going for the most expensive option! Laminate flooring is a great alternative to wood flooring and can look as good as the real thing! In fact, with today's advanced technologies you even won't be able to tell the difference! But what laminate flooring really is? Can it be used in every room? And is it really easy to lay laminate flooring yourself?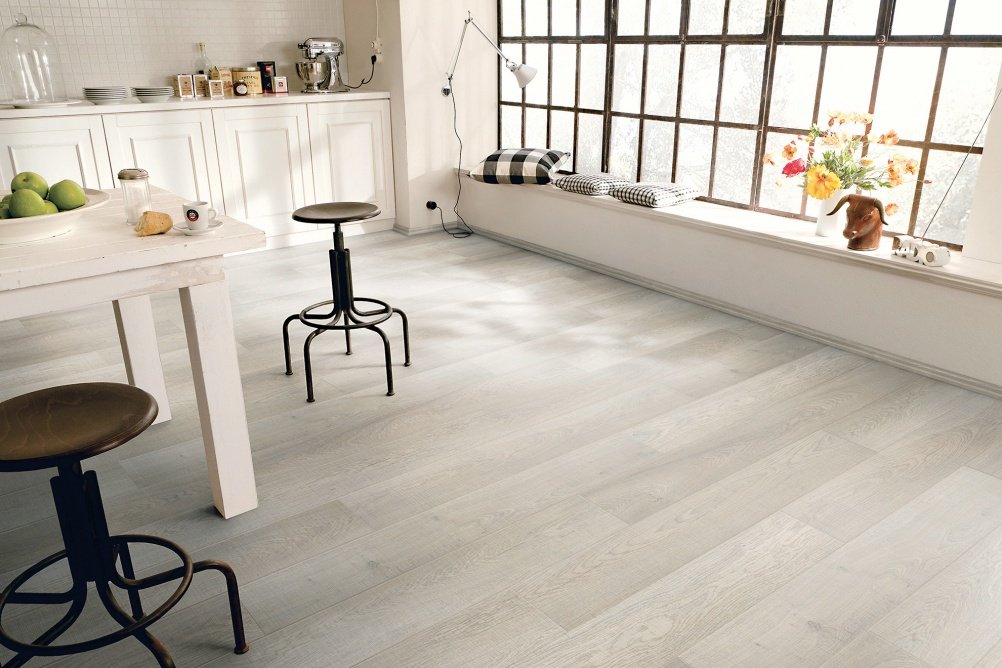 As we're about to embark  on our biggest renovation project yet, new flooring is pretty much on the agenda right now. And as much as I would love to have real wooden floors, our budget just doesn't stretch that far. Therefore my attention went all on laminate flooring. It is not just more affordable option but it's also easier to install yourself (and that means double savings here).

But  let's start with a little bit of explanation…
What is laminate flooring?
Laminate flooring is made from HDF (High Density Fibreboard) with a high-resolution photo that features the design and a resin top layer with a texture that follows the design underneath. That top layer makes laminate exceptionally tough and easy  to look after.
In terms of look, the photo layer is versatile and can be printed in many colours and styles recreating often very expensive genuine wood flooring. And if you choose laminate with bevelled edges they will give more definition between planks and help the floor look more realistic.
Apart from the look you can choose between different thickness, widths and lengths. It all depends on your budget and your personal preferences.
Where can I use laminate flooring?
With such an array of styles and colours laminate flooring is a perfect choice for almost every room in the house, like living and dining rooms, bedrooms and studies.
It also makes a good choice for hallways and landings as it is very easy to maintain.
And because of its splash and stain proof properties it can also be used in the kitchens and in an open plan areas.
Some of the specialist products can be used in the bathrooms and utility rooms (but make sure to check specifications or ask a specialist before laying laminate flooring in these areas)
Can I install laminate floors myself?
As I mentioned before we decided to lay our new flooring ourselves. We're definitely not the most advanced DIYers, neither do we think it is easy. It actually requires some intermediate level of DIY skills and a little bit of preparation. Floors Direct have got an easy to follow step by step laminate flooring installation guide which seems to have all the answers and handy tips, as well as a handy guide to laying your laminate flooring yourself.  I highly recommend you check it out before you start on a project. It could save you from making some costly mistakes. Plus it tells you which underlay you should choose, so you don't have to waste time looking for an answer somewhere else.
How to make the most of your laminate flooring?
With so many laminate flooring to choose from it is easy to feel a little bit overwhelmed and perhaps  a bit lost. But by remembering few simple rules you will be able to make a quick decision:
If the room doesn't have much natural light go for light flooring as it will help bounce off the light and make the room appear bigger and brighter.
For rooms that feel a bit cold and stark try floors in more natural wood tones. This will bring a bit of warmth to the room.
If you want your wood effect laminate look more realistic choose planks that have bevelled edges (preferably on both sides).
If you have a dog or a cat avoid floors in a contrasting colour to your pet. It may seem silly, but trust me, white dog's hair don't look attractive on a  dark floor.
Although it is recommended to lay the floors in a direction of the windows, the true is that it is only up to you how you do it. If your room is rectangular shape you can visually change the proportions of the room by having the floors laid along the shorter wall.
You can make your house look bigger by having the same floors laid across all the rooms (or al least in a similar style and colour). If you have two different types of flooring, join them with a metal, plastic or rubber strip, but make sure it is in a similar colour to your floors.
Extra tip!
Good flooring is not just money well spent, but it can actually increase the value of your home. So you should take your time when choosing floors and definitely don't rush any decisions.  Always order and compare samples first. The best way to do it is by laying them all on the floor of your home. Try it in the daylight as well as with your artificial light. By doing so you will know exactly how they will look day and night!
If you still can't decide on a type of flooring you want for your home try Houzz website for even more great ideas !
Pin me!
*This post is written in collaboration with Floors Direct but as always all opinions are my own!
Zapisz
Zapisz
Zapisz
Zapisz
Zapisz
Zapisz
Zapisz
Zapisz
Zapisz
Related