How to create a gallery wall that will reflect your personality
According to some influencers and interior magazines gallery wall is no longer regarded as "on fashion". We should all move towards bigger and more expensive wall arts that will be seen as an investment. Which basically means that it's OK to spend couple of hundreds of pounds on a single piece because it will be worth more in the future. But (and excuse me my language here) I don't give a shit about the investment! All I want is to create a beautiful home for my family that will feel cosy, welcoming and I won't have to sell my kidney for it.
The true is that  gallery wall is something that has always been a big part of my home. Even in our previous rented house (and before I knew about Command Strips). It's what makes house a home. And especially if you use your own family photos. For me home can not be without at least one gallery wall and it will always feature on our walls!
OK, so now we've established my point of view on the subject, let's move to something more productive. I'm sure many of you at least attempted to hang photos or pictures on the wall in a bid to create something more less like a gallery wall. Right? I'm also sure that many of you got stuck just after hanging one or two photos, not knowing where to go from there. It's OK, I've been there myself. But if that one photo is still hanging in the corner of the room, you should most definitely read along. And who knows? Maybe you'll find your very own way to create a gallery wall that will reflect your personality.
6 ways with a gallery wall
So first things first. Let's establish some rules. Rule no 1 – there are no rules! Creating a gallery wall is a way of expressing yourself. It's a statement and it can be as bold and daring as you are or delicate, simple, yet beautiful.  You don't have to go full on with the pictures. Any number above one counts as a gallery (just a smaller one). Just hang as many photos as you feel comfortable with.
Remember that the background does not have to be white. Wallpapers can create the perfect backdrop too. But to avoid the chaos on your wall, go for a little bit more muted colours in your pictures.
TIP! Try all black and white gallery wall when your background is a  busy patterned wallpaper. Or go for as many colours as you can think of when working on a white background.
For the "let's stay on the safe side" one
If you like the idea of a gallery wall but can't commit to it just yet, hanging three pictures of the same size and in similar style could be the best option for you. Try going for bigger than normal size to make sure the pictures don't get lost in the background. And if you ever decide to add more pictures it would make for a great starting point.
For the "let's get bigger" type
Six pictures in two rows is enough to make a big statement. Also being symmetrical it creates a relaxing atmosphere in the room. It is simple, yet stylish and works well with any scheme. If you like neatness and order this is  the one for you.
For the "I want to but I'm afraid too" one
This arrangement of photos is a perfect balance for those who can't decide between symmetrical and eclectic gallery wall. The size of the photos are different and they're all placed differently (to satisfy the eclectic side of you) but together  they create the perfect shape. So if you're a bit thorn between styles and you just can't make up your mind that's the direction you want to go.
For the artistic in you
If you don't like to follow the rules and you like to have things your way (in your life and on your walls) this could be the perfect arrangement for you. You could even try to add some other objects to the wall like letters, quotes, woven baskets (the latest trend) and anything else you can only think of. Let the artistic in you take over!
For the "more traditional at heart" type
If you'd like the design of your home to stand the test of time and don't worry if it's on trend or not, then that's the gallery you want on your wall. Four pictures of the same size hung symmetrically on the wall above your sofa (or any other wall) is an absolute time classic in the world of interiors. You won't have to worry about it in a million years.
For the eclectic soul
Who said that gallery wall needs to be centred. If you're more of a free soul with an eclectic style this matchy matchy way of hanging pictures is definitely not for you. Instead do something different, like having them on one side of the wall. Remember to "balance it up" by placing something big on the other side (even a big plant will do).
So which personality are you? My heart is definitely on the eclectic side, but still, quite often I find myself thorn between the styles. But how couldn't you?! All the gallery walls look so pretty. They're just a pretty thing to have in your home. And if you didn't like any of my ideas you can get yourself a set of 4 wall templates from Ikea for only £2.95.
They're very easy to use and they even tell you what size of frames you need to buy. And if you want your gallery to be a bit smaller, just cut out the squares you don't want to use. It even shows you exactly where to hammer the nails. It just couldn't be easier.
Or if you don't like making holes in your wall (or you're restricted by your landlord) use Command Strips instead.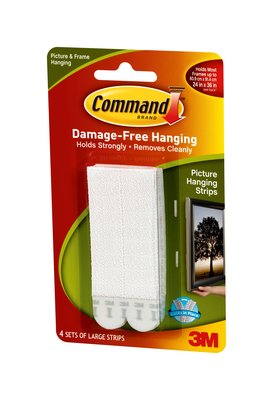 If you've never heard of command strips, they are the perfect solution for hanging pictures without damaging the walls. They can hold strongly anything weighing up to 7.2kg (that's more than enough for an average size picture).
So I guess there's nothing stopping you now! And here are the galley walls in my home. One featuring the pictures I liked and the first letters of our names. The second wall if full of memories of when the kids where small. There is no day I don't look at them without having butterflies in my stomach…
Zapisz
Zapisz
Related