My DIY bed with upholstered headboard for under £25!
Yuppee! We finally have a bed! I'm sorry for the childish excitement, but after sleeping on the floor for the past three months it actually feels like a reason to celebrate! It's funny how simple things can make you happy. And how not having those simple things makes you appreciate them a little bit more, right?  But that's probably a subject for a different post. Or for a different blogger to be honest! I'm only good at giving advise on how to design a house on a budget, what cushions to buy or how to make a DIY bed. I'm certainly not the one to give you advise on what you should appreciate in life and what you shouldn't. And if I ever try, just ignore me!
So… the story of the bed and why it took me three months to complete this DIY bed project?
Before you run away screaming I have to say that it actually took me one day to make this upholstered bed. But it took me three months to figure out what I wanted to do with it. The reason for this was that I rushed with the decision to buy a bed on Ebay. I was looking for a headboard-less bed frame, so that I could make the headboard myself. Unfortunately I was very inpatient. Also the choice was very limited as we needed something to fit our small bedroom. (Not to mention our small budget.) So I ended up buying a bed I didn't even like.
After months of jumping over a dismantled bed in our kitchen and sleeping on the floor of our bedroom (thank god we didn't sell the mattress with our old bed) and even considering re-selling the bed and getting something that I actually liked; I decided it was time to roll up the sleeves!
The effect is absolutely stunning (at least in my opinion) but it did not come without its problems.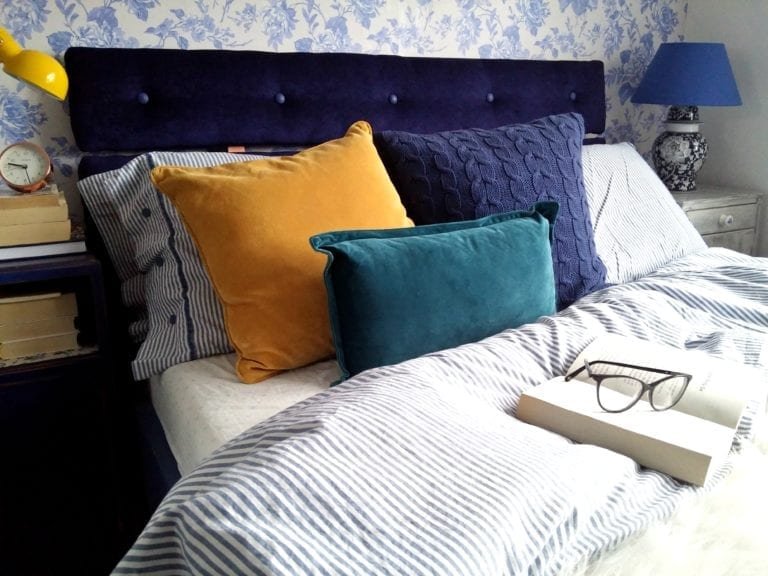 Step by step guide to your DIY bed
I started by painting all the parts of the bed frame with Annie Sloan paint. I had the colour I wanted in my head but I was determined to use the paints I already had in the house. So I started mixing colours! I used: Pure White, Graphite, Paris Grey and Napoleonic Blue (you can check all the colours here) The result? Kind of smoky blue that I will never be able to recreate. But that's exactly what I had in mind for my bed makeover.
I have left two panels of the headboard unpainted and ready for upholstering. That was supposed to be the easy part. It wasn't. As it turned out the panels, although not made of solid wood, were very hard and using a staple gun was out of the question. I think I must have looked very glum at that point because Rob decided to nip to our local B&Q (which isn't very local to be honest) and bought three packs of different nails and staples. After trying them all and almost giving up we finally started making some progress.
I started by measuring and marking on both panels where the buttons would go.  When I was happy with the arrangement I made holes by drilling through the wooden panels. (The holes need to be big enough for the needle to go through) I also needed to cover the buttons with the same fabric  I was going to use for the headboard. And that's where I hit the wall again. The fabric wasn't good for cutting it to such a small size as it easily split at the ends. But there is no problem that good old paint can't fix, right? So I have quickly found a different fabric that I had left from one of my previous project. I used it to cover all the buttons (I even had a little helper). But as it was different colour to my fabric I decided to paint the buttons with my blue paint. They came out looking very nice which only proves that Annie Sloan's paint it good for everything! I cut the fabrics and the wadding to size (to size means big enough to wrap around each panel).
The next step was the hardest bit of this bed makeover. As I mentioned earlier I couldn't use the staple gun. Instead I used Rob and his muscles (he'll be so happy I have mentioned his muscles, ha! One extra point for me!) But as we needed all four hands, there are no photos of that stage. It took us good couple of hours to hammer all the nails to the panels and secure the fabric.
TIP! If you are planning on making your own headboard use material that is not too thick and not too hard (like mdf) Then you can easily use a staple gun to secure the fabric to the back of it. It will save you loads of time (and swearing under your nose).
In the meantime I have also spray painted the metal panels of the headboard with bright copper paint. They are not very visible but you know what they say: the devil is in the detail (or something like that.)
With all the fabric secured all that was left to do was to add the buttons. To do so you will also need some extra plain buttons to go at the back.  Tie the thread to your first plain button.Using a a needle to go through the hole, thread through your fabric covered button,go back and secure it to the back button. Repeat with every button, making sure they're not too loose.
And the final touch to my DIY bed was Annie Sloan's gilding wax in copper which I have discovered few months ago. You can simply rub it onto the edges using your finger. It gives a very subtle metallic effect. And if you're not a fan of copper, they come in gold and silver too.
And that's how we've made our DIY bed and upholstered the headboard. As the bed was never assembled in our house after we bought it and I didn't have any photos of it, I found this photo of a bed which is very similar to ours and used it as my before picture.
For before photo's credit go 

here.

Now let's take a look at the cost:
The bed was from Ebay and we paid £30 for it. As we sold our old bed for exactly the same money, it didn't actually cost us anything. I used Annie Sloan's paints that I already had and mix them together to get the colour I wanted so there was no money spent here (but if you need to buy your paint it will cost you £18 for a tin that will last few projects). I have spent £10 for 2m of fabrics, which I got from a sale in Dunelm. The wadding and self covered buttons were also from Dunelm and it cost me £8 and £3 respectively. Then the pack of nails we used for upholstering my DIY bed was picked up from B&Q and it was less than a couple of pounds. And that's it. I wanted to make my own upholstered headboard but it would cost me much more than reinventing this bed. So think before you make and use what you already have, especially if  you're DIYing on a budget!
As my DIY bed is the last piece of my bedroom makeover puzzle, stay tuned as I will be sharing all the details with before and after photos in a couple of weeks time. In the meantime, if you've enjoyed this DIY project, check out my dining table makeover or if fancy something easier this cute wall hanging.
Also if you enjoy reading my posts please cast your vote to support Very Me Interiors in a bid to win the best newcomer blog of 2017 and to show people that beautiful interiors can be created even on the smallest of budgets! Just simply click on this link, it will take you less than 30 second. Pretty please!!! And pretty thank you!
Zapisz
Zapisz
Zapisz
Zapisz
Zapisz
Zapisz
Related