Home lighting ideas and the latest trends
Good lighting is not something that we should only think about in winter months, when it's cold and dark. Although the last week surprised us with more than a few rays of sunshine here in England, the truth is that "gloomy" is much more often used word than a "sunny". And that's even in the summer months ahead. (Damn it, why did I move to this country??? Oh, I remember, I followed the boy…)
There are three types of lighting: ambient (that's your main source of light, your ceiling light); task (like your reading lamp) and accent (something that just looks pretty or lights up something pretty). Ideally you should always try to incorporate all three to every room in your house. Also important is the height of the light sources as varied height will make the rooms look more interesting. Different intensity of the light can also help in adding depth and creating separate areas of light and shade. So consider adding dimmer switches if you can.
Ambient (general) lighting
This type of light is needed in every room. Due to the ceiling's reflectance, the room will always appear larger when lighting from the ceiling.
Crazy about navy blue and copper combo? Then you'll love this beautiful pendant shade. It will maximise the ambience and give your place an instant style update for only £29.
Or how about a little bit different shape? This unusual pendant shade is from Wayfair* and it cost £76.99. Also available in different colours. (Just wished the rest of the room décor came included in this price)
Want to add some Moroccan vibe to you room? This is definitely an emerging trend and the one to stay for a while. So how about hanging three of those Moroccan style pendant lights* from the ceiling above your dinning or coffee table? These are from Very* and with £15 each you could definitely justify buying three of them ( or more?)
Chandeliers can also be your main source of light with an added bonus of being very decorative too. This Puerto Chandelier from Marks & Spencer* is a bit pricey (£149) but I just couldn't resist not to add it to the list. And the pineapple make it less formal and more fun so great for any room! Oh, and there's a matching table lamp and even wall lights too!
Task lighting
Task lighting allows you to perform a task, like reading, cooking or working. Floor and table lamps are a good example of task lighting and are also  used to make the rooms feel more intimate.
This Bobby Table Lamp from Very* is simple and with its woven rattan finish it is perfect for the summer, yet very stylish. It costs £20 so definitely a summer price too.
Are you a fan of metallic colours? It's hard not to be at the moment, right? As soon as you open any home magazine the pages are shining with gold and copper accessories. So if you want to add some of that new trend to your home, then why not in a form of a lamp? And this one in particular. This copper task lamp is from Marks & Spencer* and with a price of £35 you're adding style to your home without ruining your budget.
If you're more of a pastel colour lover and this new pink wave is just another excuse for you to add even more pink to your life, then you will love this pink table lamp from Oliver Bonas*. Oh, and it's got a marble base too! Just beautiful! Not cheap, but simply beautiful! And considering it's perfect as a task lamp for your reading corner, then it's practical too. So there you have it – £68 spent justified!
This floor lamp from Very* is not an illusion. It may look like a table lamp but at 128cm height it's big enough to be placed next to your sofa or either side of the bed. And for such a big lamp the price is rather small – £59, but it's reduced from £79 at the moment so you've gotta be quick!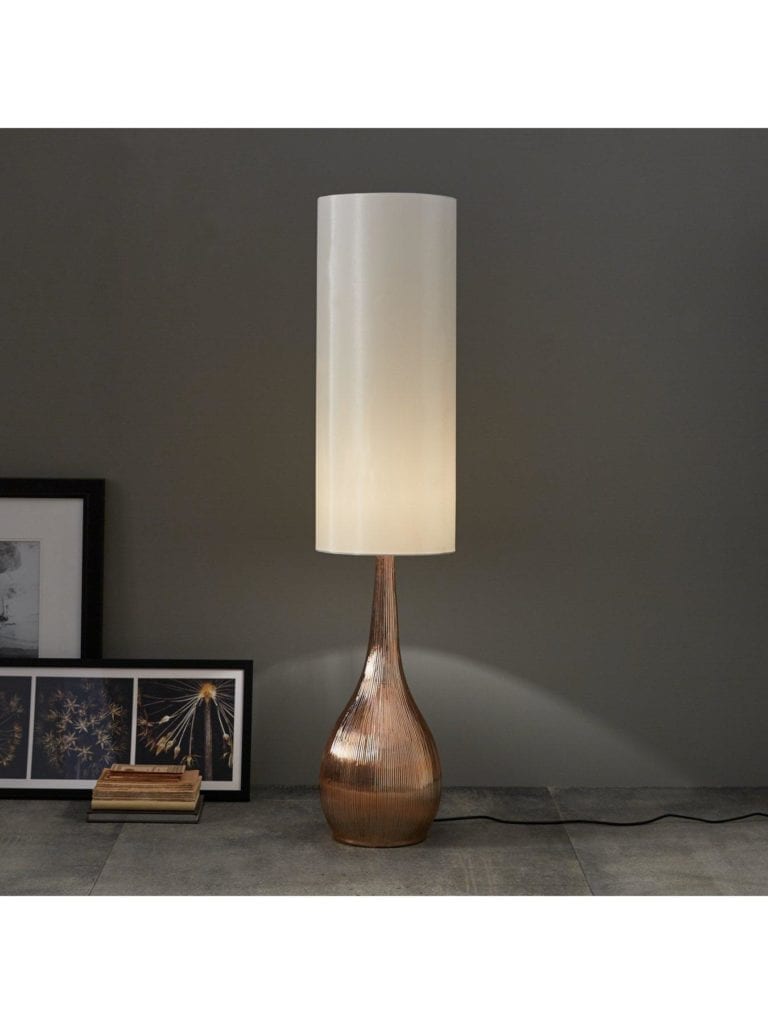 Another one from Oliver Bonas – this sleek and modern wall light* would be perfect above the bed or perhaps in the kitchen to add some task lighting when you're cooking. It's not exactly cheap (£70) and you would probably need few of them to make a real impact, but if your room is lacking some character, it might be worth investing in.
Accent or decorative lighting
Accent lighting allows you to spotlight something interesting in your room, like an original feature or painting on the wall. In smaller rooms wall lightings are significant as they will appear to increase the size of the rooms or bring the walls in closer by causing focus on them (so be careful when choosing your wall lights). Decorative lightings are mainly for decorative purposes but they can also be your ambient or task lighting at the same time.
Like this gorgeous table lamp from Made.com in collaboration with Living etc.  With its statement design it will add a bit of fun to any room in your house. And it's reduced to £65 now! Considering the quality – it's a bargain!
I'm a big fan of decorative letters but always find it difficult when shopping for kids' rooms décor to find a letter "Z" (my daughter's name Zuzanna which is basically the same as Suzanna). So I was pretty impressed when I have found this "Z" letter Led light from Matalan* (£15). And they have other letters to choose from too. It's purely decorative though!
If we're talking kids, these orange and green dinosaur lamps from Oliver Bonas* are just the perfect addition to any boy's room. Especially if they need that little bit of light to be left on at nights (my son may not need it, but I've always been afraid of the dark so one for mummy, please!)
And as we're being having such a lovely weather recently (please weather, stay for the whole summer?!), I had to include some outdoor lighting too. It's the summer after all, and we need something to brighten our evenings outside too. I know we already  had some pineapples here and I'm not even a big fan of that tropical trend to be honest, but there is something about those lovely fruits. Maybe it's the fact that design doesn't have to be all so serious any more, but fun instead! And what's a better place to experiment than in the garden, right? With this set of 15 solar brass pineapple lights from Next for £15* you definitely can!
And while visiting Next* site you can add that solar wire flamingo* to your basket too. It costs £28 and it will definitely brighten even the gloomiest of days (that's when the English weather finally decides to turn its back on us).
So, do you have any favourites? I would happily buy them all (if only my budget allowed) Happy summer everyone!
* these are affiliate links which means that you get a handy links to things you want to buy, you never pay more and I get few pennies towards running this blog, so win-win!
Zapisz
Zapisz
Zapisz
Related