The latest wallpaper trends for your home
If you've been following for a while you might have noticed that I absolutely love wallpapers. I've been using them as a "tool" for most of my projects around the house. In the kitchen the wallpaper proudly takes a centre of the room by imitating real tiles. In my daughter's bedroom it decorates and protects the surface of the desk. And finally the stairs in the hallway got a budget friendly makeover thanks to free wallpaper samples (you can check out these projects by clicking on the highlighted text).
Therefore it might be a surprise that there are no wallpapered walls in our house (it certainly still bothers me!). And so I decided to change that. The living room will finally get that deserved final touch in a form of a wallpaper. But finding the right wallpaper is not an easy task. With designers, high-street and on-line shops constantly adding to their collections, finding that dream wallpaper can be a daunting experience.
So if you're planning a room makeover or a weekend project for your home, here's a round-up of the best wallpapers and the latest trends…
Want to add some greenery to your home but keeping plants alive is not in your DNA? How about this gorgeous wallpaper from B&Q. It will turn your living room into a botanical garden without ruining your budget. It cost only £18 per roll and with such a busy pattern you will only need it for one of the walls in the room (unless you want to be more adventurous and try it on all of the walls).
Not so kin on having your living room looking like a garden? Maybe you want to add a bit of glam into your life? This gold geometric wallpaper from Next will do just that. It cost £18 per roll so it is not just glamorous but affordable too!
If colour is what your room is lacking then this pretty coral wallpaper (also from Next) will deliver that and more. It cost £15 per roll but it looks like a designer masterpiece. The colour is deep and it will make any room feel warm and welcoming.
Want to be more daring? Try this Flamingos wallpaper from the Albany Maison Collection in your hallway and be sure it will be talked about over and over again (available from Wallpaper Direct). The price will be the subject of the conversations too as it is only £18.98 per roll.
You'll be surprised to know that this absolutely gorgeous wallpaper is from Homebase, and with a price of £6.45 per roll it's the cheapest one of all. It comes in different colours too and it totally deserves its "Monet" name! Don't you think?
If you have few more pennies to spend and you want to treat your bedroom with a proper spring makeover, then this beauty from Wallpaper Direct could be the solution for you. It costs £59 per roll so definitely not the cheapest one, especially that with such a beautiful pattern you might want to go all over your room. But if you can't afford that, having this gorgeous wallpaper on a feature wall might have just about the same effect (and some money left in your pocket).
Always liked the idea of having the brick wall exposed but you don't fancy the mess that comes with the job? How about faking it with this 3D effect brick wall wallpaper from Homebase It's definitely less of a mess but the end result is equally good. And the price is good too – £11.65 per roll.
Or how about faking driftwood in your living room? This very authentic looking mural is from MuralsWallpaper. The price – £25 is per square metre so it might end up being a bit pricey (depending on how big is  the area you want to add it to). You spend more but you definitely get that "one of a kind" look for your living room (or any room on that matter).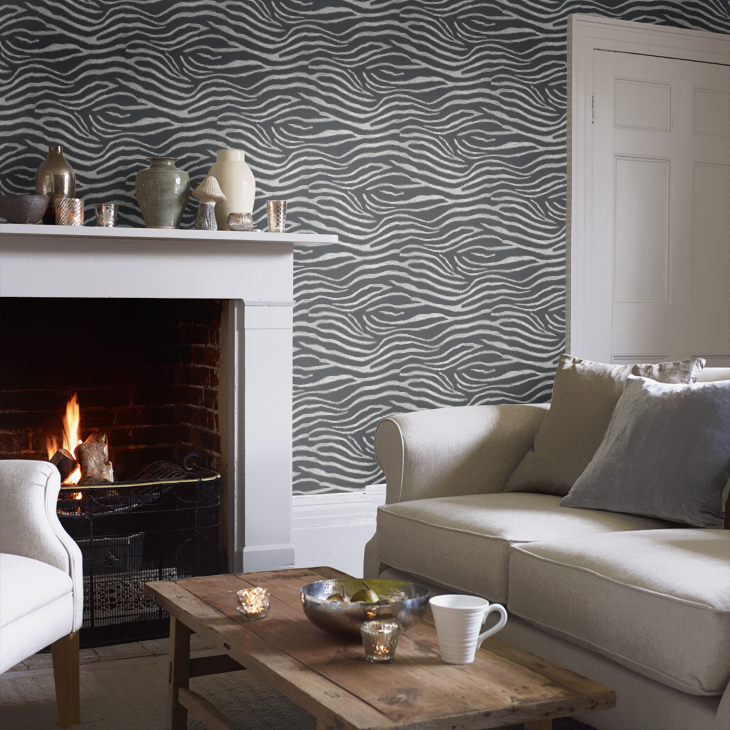 If you prefer animal prints, then this Serengeti Nights zebra wallpaper might be just a thing for you. Although the pattern may seem very busy, the black and grey colours help it look very relaxing and perfect for any room in the house. It is available from WallpaperDirect and it cost £20 per roll. And the good news is that every colour goes with black!
Last but not least this beautiful geometric wallpaper (from Next) for all the retro or scandi style lovers (scandi colours with retro shapes). Budget friendly and easy to live with and it will fit into every style. With the price of £15 per roll it will definitely fit into everyone's wish list too.
Don't have time to read it now? Pin it for later!
P.S. I haven't found my dream wallpaper yet, but hopefully you have found yours now…
Zapisz
Zapisz
Zapisz
Zapisz
Zapisz
Zapisz
Zapisz
Zapisz
Zapisz
Zapisz
Zapisz
Zapisz
Zapisz
Zapisz
Related