7 easy and creative things you can make for your home with yarn
Once upon a time there was a girl who thought that if she could paint walls, sand floors and drill holes, she could also knit… It turned out she couldn't! THE END. But before she realized that knitting was not in her DNA she bought tons of yarn and wool. And now she was left with all that yarn filling every drawer, cabinet and every basket in the house. And she had no idea what to do with it. So she started crafting…
OK, let's stop that silly talk now. I'm sure you all know it was me… who else would have turn the whole house into a wool shop before even trying to knit. (If you're the same, please let me know so I could feel a little bit better about myself) Anyway that's how it all started. But it didn't end badly either. There are so many things that can be made with a little bit of yarn. And as I'm obsessed with all things home related my crafting didn't take me anywhere else. So if you were hoping for the instructions on how to make a sweater or a scarf, you won't find it here. My hands are not capable of holding the knitting needles for more than five seconds! In fact they are not capable of holding them at all!
Luckily all that crafting I did in the last few months did not require any skills at all and most definitely they didn't require handling the knitting needles.
So let's have a look at what you can make and do with yarn
1.Add tassels to your throw
My latest project was to turn a £4 charity shop find into a luxurious looking throw with tassels. It's so easy, anyone can do it. and all you need is the yarn (and the throw obviously). Scroll down for the full tutorial.
2.Make some pompoms
There is nothing easier than making pompoms which you can then add to absolutely anything. Or hang them on the branch and there you have a nice wall decoration for your child's room.
TIP. The easiest way to make a pompom is to wrap a yarn around your hand, then slide it off and tie it in the middle. Cut through the loops and trim to your perfect size.
3.Make a pompom rug
It will take you quite a lot of your time, that's for sure. But who else that you know has a rug like this? Exactly!
4.Make a yarn wrapped letters
How cute is that?  And all you have to do is to wrap some yarn around the wooden letter that you can get from any craft store. Or just cut the letter out of a cardboard. It's that simple!
5.Make a tassel bag charm
Definitely next on my list. It involves tassel and pompom making and it's so pretty you will want to make more than just one! And what's great, the charms will instantly turn your ordinary bag into a very trendy looking piece.
6.Yarn wall hanging
Wall hangings have become so popular, there is no magazine that you open without seeing them. And rightfully so. They can add a little bit of boho charm to your interiors. You can buy them in any colour and style or you can try to make one yourself. Check out my easy tutorial for this yarn wall hanging in my dedicated post here.
7.Make a pompom wreath
Who's been thinking about Christmas yet? Well, not me, or at least not until I saw this easy to make pompom wreath. It instantly made me want to make one. Especially that pompoms are a bit of a theme in my house over Christmas. So this wreath is definitely on my list!
I just love simple yarn DIY. And there's plenty more. Check out my Pinterest board where I have collected all the best yarn crafts & DIY's.
And here's how to make a DIY yarn tassel throw:
You will need: a throw, yarn in a colour of your choice and scissors. That's all! All you have to do is to make tassels and attach them to the throw. Easy peasy!
To make a tassel wrap a yarn around your arm a few times (or 40 times for a rich, thick tassel) and roll it off (this will create the perfect length. Cut a piece of yarn and tie in the middle. Then cut through the loops. Take another piece of yarn and tie again. This time creating a little head at the top of your "dancing tassel". Then trip all the yarn to your desired length.
When you make a sufficient amount of tassels place them at the end of your throw and measure the gaps between them. Make sure all the gaps are exactly the same! Then start sewing the tassels to your throw. And that's it. You've got yourself a brand new yarn tassel throw!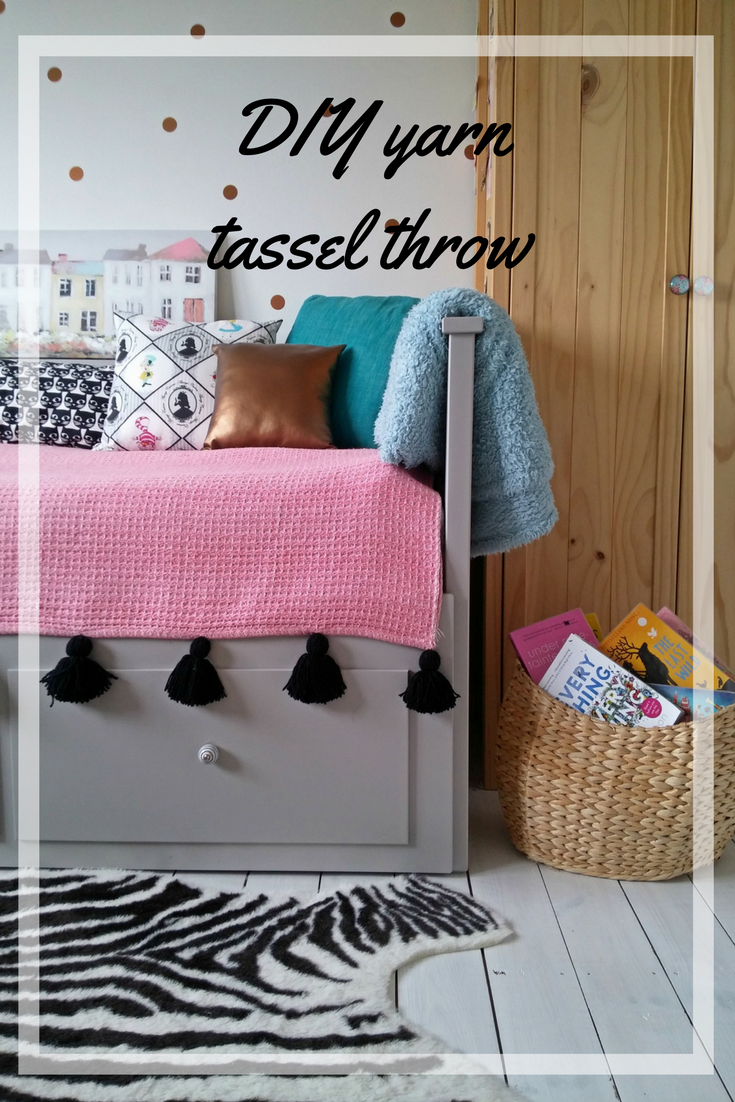 P.S. Could you be so kind and vote for Very Me Interiors in this year's Amara Interior Blog Awards? It will only take few seconds, you'll make one girl very happy and you'll be in a chance to win £250 to spend!!! Just click on this link.
Related