Autumn is all about TEA MUGS filled with your favourite tea…
I put the kettle on, take couple of tea mugs out  and while waiting for the tea to brew I start to wonder… It seems like we only just said goodbye to the summer and we're in October already! Dark, cold evenings are just around the corner. In fact they're already here (like they couldn't wait any longer) There's something sad about this time of the year. It might be the falling leaves, or the grey clouds or the moist in the air.  Or maybe it's the combination of it all…
But there's something pleasurable in those dark, cold autumnal evenings too!
There's something pleasurable in those falling leaves and grey clouds and even in that moist in the air…It's that feeling of slowing down after a busy summer. Instead of running around the park with the kids, we can stay at home and watch TV together without the guilt of not spending this time outdoors. And it's those long cold nights that are perfect for curling up on your favourite chair, wrapped up in a blanket with a book in one hand and a mug full of your favourite tea in the other…  Can you imagine that? Good! Now… what do you need to make that happen?
As a proud owner of so many (favourite) throws and blankets  this year I'm turning my attention to tea mugs and cups and any other crockery that can help me get through the evenings  with my favourite book. Not that I am not adding any new throws this Autumn. But with literally no place to store them, I just can't justify the need for a new one… Not yet at least!
So with all that in mind I started looking for some interesting tea cups and mugs in stores and online. And this is what I have found…
The best tea mugs for this Autumn-Winter season
Denby
Denby is definitely one of my favourites brands for tea mugs and any other tableware in fact. With over 200 years of experience this Derbyshire factory is still using some of the old hand crafting techniques. As a result all their products are not just strong but beautiful and unique as well. They may not be the cheapest brand, but the quality is just outstanding. And if you're not very picky you can ALWAYS find yourself a bargain, either on their website or in one of their stores. Ans this is what I got last time I was there:
Aren't these cool? And what an array of colours! But if you prefer something more delicate, these Natural Canvas mugs are just the perfection!
Doesn't this mug filled with a frothy coffee just scream: Autumnal evening?! It's definitely my favourite shape of a mug. But if you prefer a different shape this Greenwich Double Dip Mug  or Regency Green Double Dip Mug could be a thing for you…
John Lewis tea mugs
As one of the biggest names on the High street, there's no surprise their collection of tea mugs is rather impressive. With designer names under their roof, as well as their own products, there's (surely) plenty to choose from. And if you can't stop adding gold accessories to your home, you'll definitely want those on your table!
Not a fan of gold? That's OK, John Lewis has something for every taste. And these two are definitely one of my favourites. In fact, as I have a voucher to spend in their store, they might have just found their new mama!
Or if you spend more time on the train than on your sofa then you should most definitely treat yourself to this beautiful Rosanna Chic Happens travel mug… Who said the girl can't travel in style?!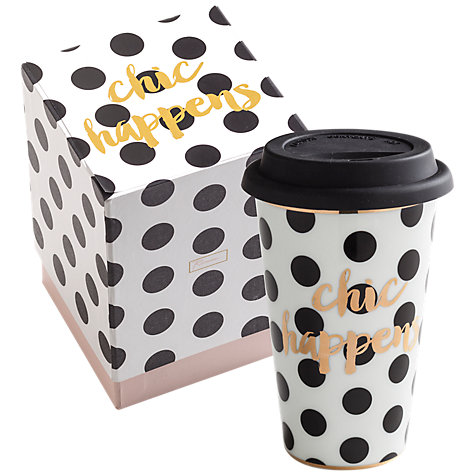 H&M Home
Few years ago H&M was one of my favourite stores for buying clothes. Nowadays it's almost like I don't even see their clothes any more. Their homeware collection is so beautiful, it's all I want to look at.  And I usually spend there so much time wandering around all their tea cups and blankets, there's no time left for checking out anything else… (which is a pity if you ask me, but at least I always manage to find something for the house)
Aren't these Patterned Mugs just gorgeous? And they come in black and pink too! You can match the saucers or mix them with different colours for more eclectic look!
Trouva
If you like buying from independent shops and you want your tableware to be unique but without having to run in a bid of finding those little shops, then Trouva is the perfect solution. They call themselves "a home of independent boutiques online where you can discover design-led homeware and lifestyle products." When visiting their website you can be sure to find that something special, even if it's just a tea mug… Like this one here:
Or how beautiful are these Wonki Ware Handmade Mugs? They are all lovingly crafted by artisans and there's no two exactly same mugs in the collection. Just perfect for those cold nights in!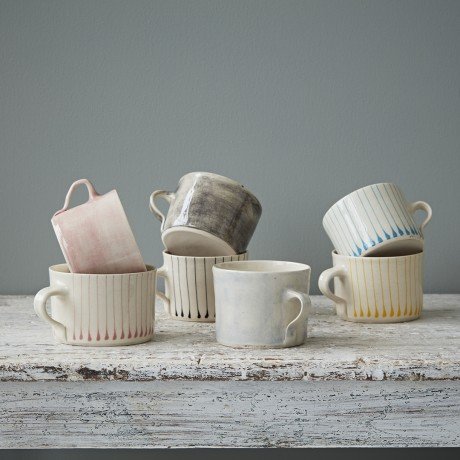 And another design you can buy from Trouva is this absolutely stunning tea mug in teal colour and with white base. It's handmade in France and it's from company called Printer and Tailor. What a beautie!
Anthropologie
If (for some unknown reason) you haven't heard about Anthropologie, then you should definitely check them out. It's an American brand offering signature clothing and homeware products online and in their stores in North America and in the UK. Their homeware collection is very unique and even their tea mugs are like small pieces of art…
Like these Yesteryear Mugs. The combination of blue and gold is just divine. Just imagine curling up on the sofa in front of a fire(place) with this mug in your hand…
Or if you prefer more colour on your mugs and some birds motifs then you'll love these Plumology Mugs crafted by ceramicist Lee Page Hanson. They're big enough to get you through the whole evening. And that gold handle…
Fox & Ivy by Tesco
I'm sure you've been wandering around Tesco's homeware aisle before picking up bits from their ever so growing collection. But this year Tesco has taken its homeware to the next level. Their collaboration with Fox & Ivy just  made that weekly food shopping a little bit more exciting! Those tea mugs and cups and saucers sets could be just the thing you've been waiting for. A designer feel with a high street price tag! What's not to love? In fact, they proved to be so popular, they're already sold out. But don't you worry, as they're coming back soon!
Or how about these little fellas? Of course they're not your every day mugs! These are in fact Mini Moscow Mules and could be perfect for Christmas (or as a Christmas gift!)

I could easily just go on and on about tea mugs and probably used word "favourite" too many times. But the true is that when you have to stick to a small budget with all your home improvements, sometimes it's nice to treat yourself to something a little bit more luxurious. Even if it's just a little tea mug…
So now… which one is your favourite?
Zapisz
Zapisz
Zapisz
Zapisz
Zapisz
Zapisz
Zapisz
Zapisz
Zapisz
Related