Design horoscope – how to decorate according to your zodiac sign!
I don't really read horoscopes, but when I saw a design horoscope, of course I was interested (or even intrigued). Because as some people take little notice of their zodiac sign, others can't make any decisions without "consulting the stars". I'm definitely the first type, which is rather weird considering I was raised in a home where every Friday night my mum would turn into a little future teller with a pack of cards in her hand. (If you didn't know, Friday night is the best time for "reading the cards") But whichever type you are, you might want to take this post with a pinch of salt and definitely not too seriously. But who knows… it may actually help you with your design dilemma. Because if the stars had their say on what kind of people we are, they might be responsible for the way in which we decorate our homes too. Let's check out what your zodiac sign tells about you!
An interior design for every zodiac sign
Aries (March 21–April 19)
(that's me)
Colour: red
Always busy. They don't like pastel colours. And definitely not for them are neutral interiors. They like challenges and get bored easily. Living with an Aries means constant faffing and moving furniture and they definitely need bold accents in the house. They are born  entrepreneurs and need a good desk more than a fancy bed. In their free time they like to read so bookshelves are the key furniture pieces in their homes. When buying a present for Aries, it's best to go for classics. A nice bookmark or a table lamp would be good.
Taurus (April 20–May 20)
Colours: green, brown
They can easily spend their days in bed. But not just sleeping! They work, make phone call and plan their weeks from the comfort of their own bed. So it's rather obvious that bed is the most important piece of furniture in their home.  Taurus are born aesthetes with a weakness for beautiful art. They love paintings, sculptures or any other form of art.  As an earth zodiac sign they are not afraid of getting their hands dirty in the garden. Beautiful garden is for Taurus equally important as a beautiful home. But don't get them anything too practical. A pretty vase would be a much better present.
Gemini (May 21–June 20)
Colour: yellow
Hard to keep up with them. One day they paint the wall pink, then next day they hate it. But that's just the part of their charm and living with Gemini means you need to get used to it and accept their changing moods. But at least it's never boring. They much rather spend time travelling or just going out than at home. And most certainly they don't like having too much stuff around them, it irritates them. Having smart home is much more important for them than another antique table. When buying a present for Gemini it's best to go for something practical.
Cancer (June 21–July 22)
Colours: silver, grey
They definitely dn't like throwing things away. For them everything is worth saving and recycling. Cancer needs someone with more minimalistic approach with them all the time, otherwise their  home will be full of clatter. Love staying in and rather have friends coming over to their house instead. They love their family and their homes are full of photos and heirlooms. Cancer is not very adventurous with colours so you won't find any bold colour choices in their home. A nice photo frame will be a good present choice.
Leo (July 23–August 22)
Colour: gold
They need big windows to assure lots of natural light streaming in. Fireplace and candles would be nice too. They definitely need fire in their life (but no wonder, it's a fire zodiac sign after all). They like expensive accessories, glamours furs  and things that shine. Big comfy armchair is where they like to spend time when they're at home. Everything else needs to be big too. Pretty and big! Buying a present for Leo is not an easy job, they need something spectacular!
Virgo (August 23–September 22)
Colour: brown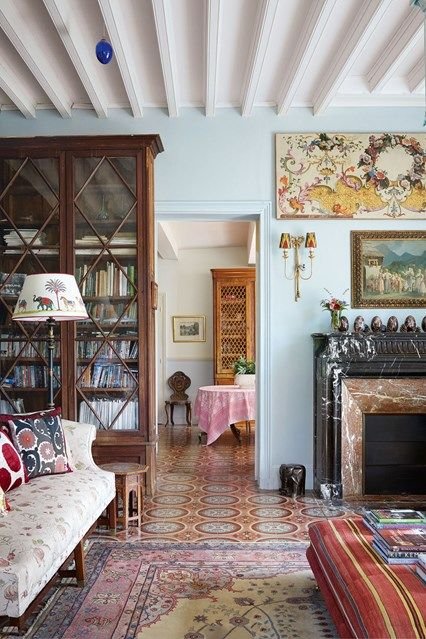 They're born perfectionists. Constantly running with a vacuum cleaner. Their homes look like a home magazine shot, even if they didn't spend a fortune on it. They always think twice before investing in a piece of furniture. And definitely they don't like throwing things away. Virgo's home is eclectic, full of things from different eras, but it's rather due to being sensible with money than anything else. Looking for a gift for Virgo? Don't get anything too colourful – a nice plant pot would be nice.
Libra (September 23–October 22)
Colours: pink, purple
They can live with the same decor for decades. And it has nothing to do with not being creative. It has more to do with doing ten things at the same time. But when they do get round to redecorating the house, it's on a full swing. They don't listen to other people's advise, because they always know best. Libras don't need a designer to decorate their house, they are  artistic souls after all and happily do it themselves. The rooms they will spend most time designing will be the dressing room and a walk in wardrobe. They love fresh flowers and always have them in the house. So if you can't decide on a present for Libra, just show up with some flowers in your hand.
Scorpio (October 23–November 21)
Colours: red, black
Brave and adventurous. Always helping others. They like simplicity but they also not afraid of dark colours. Although big floral pasterns are probably not for them. They believe that devil is in the detail. But don't try to discus this subject with them, they're always right! Not for them are plates with beautiful english roses patterns. But Art Deco style plates? Why not!
Sagittarius (November 22–December 21)
Colours: white
They know everything (even if they don't). Like space and small apartments are not for them, even though they don't like spending too much time at home. Always on the go and curious of everything that surrounds them. They like white high ceilings and the feeling of openness. Always bring something new from their travels: new rug or a new sculpture. They like plants in the house so a nice little watering can would be a great present for them ( or something with an ethnic pattern).
Capricorn (December 22–January 19)
Colours: dark green, black
They work hard and they're never home. But the time they do spend at home, they like to feel cosy. They're very serious with their design choices and not for them are eclectic interiors. They will always choose traditional interiors over Italian modern design. Leather sofa will be their choice as it is more practical and it can be passed on to the kids later. The same with everything else in the house. Best present? It's better be made in Switzerland, than made in China, so think quality over quantity here. And of course it needs to match their decor too!
Aquarius (January 20–February 18)
Colour: purple
They like their freedom and definitely have their own style. They live for their passions and have a head in the clouds. But on the other hand they always know everything about new gadgets for the house. They like contemporary style, their own home is often very extravagant. Their heads are full of ideas and their fridge if full of nice food, because that's one of their life's pleasures. But this zodiac sign is also hungry for art, graphics and paintings… and a good lamp that will turn itself off! Best present for Aquarius? Definitely something to hang on the wall! But it needs to be as extravagant as they are!
Pisces (February 19–March 20)
Colour: navy blue
They are born decorators! Design is in their blood, even if it doesn't really run in the family. Smart and curious. They are  always on the look out for some new ideas. And when they find them, they like to present them as their own. Pisces might not say that loud, but deep down they are materialists. They like to own things, either it's the house or the new art. They are happy with whatever you give them. If they don't like it, they have no problems with selling it on Ebay. Their mood is constantly changing so every room in the house is decorated in a different style. To tone down a little they need black and white photos on the walls. The best present will be something to help calm them down, like a scented candle or a yoga pillow.
So what zodiac sign are you? I'm Aries but because I was born at the beginning of the star I like to think that maybe I'm a little bit like Pisces too. And the combination of them too describes me pretty well… or maybe it would describe anyone? Let me know if your stars were right for you?
Related